2018 Dodge Challenger Review
No American muscle car has managed to hang on to its heritage in quite the same way as the 2018 Dodge Challenger. This car's design screams retro in the best way possible, and it has enthusiasts across Dallas, Garland, and Arlington excited for the new year's model.
Our challenge to you is this: Read our 2018 Dodge Challenger review and see what this performance car can do. If you have any questions, we're just a call away at Dallas DCJR!
2018 Challenger Performance Specs
Rev those engines! The 2018 Challenger has quite a lineup in store, starting with the base 3.6L Pentastar® V6. It delivers up to 305 horsepower and 268 lb-ft of torque. It's efficient, too, with an EPA-estimated fuel economy rating of 19 city and 30 highway MPG, making it a great choice for a sporty daily driver.
A total of four V8 engines are available, but none is quite so powerful as the supercharged 6.2L HEMI® V8 under the hood of the SRT Demon trim. It's almost otherworldly, with 840 horsepower and 770 lb-ft of torque that will throw you back in your seat when you hit the gas.
With the full V8 lineup ranging from 375–840 horsepower and 410–770 lb-ft of torque, you have a variety of options to fuel the performance thrills you're looking for!
Uncommon Interior Spaciousness 
Muscle cars aren't exactly known for their spacious backseats, but the Dodge Challenger does a lot to turn that assumption on its head. Rear legroom measures 33.1 inches and rear headroom comes to 37.2 inches, both impressive figures that will keep adults comfortable in the backseat on shorter trips.
The story's much the same when it comes to the trunk. The Challenger has 16.2 cubic feet of cargo volume, plus 60/40 split-folding rear seats that make room for longer, bulkier items. That's good for the class and enough to fit roughly six pieces of carry-on luggage in the trunk—and more than twice as many with the rear seats folded.
If you need a muscle car with a high degree of utility, this Dodge model is uniquely positioned to answer that call.
Technology for Thrills & Comfort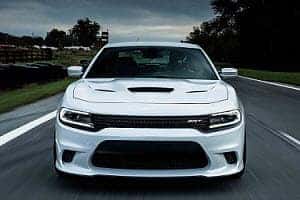 The 2018 Challenger may pay homage to its heritage in design, but it comes fully equipped with the latest and greatest in vehicle technology. Standard push-button start will have you feeling the rumble of that V6 or V8 without having to turn a key—you'll be ready to get moving even quicker.
Also, the 7-inch digital display on the instrument panel can display your 0–60 MPH time and lap timer, so you can see just how you're performing. You can also program available turn-by-turn navigation to show up here. On either side of the screen, the Tic-Toc-Tach gauges make a nice throwback to the Challenger's racing heritage.
If You Dare, Test Drive the 2018 Dodge Challenger
Experience 48 years of muscle car heritage distilled into one muscle car when you explore all that the Challenger has to offer. The highways of Dallas, Garland, and Arlington are waiting, and our dealer can give you all the hands-on experience you need to feel confident taking on the open roads in the Challenger. If you enjoyed our 2018 Dodge Challenger review, you'll like getting behind the wheel of this performance beast even more.
Contact us to schedule a test drive today.