Cool Down at One of Dallas' Three Best Ice Cream Shops
One of the best parts of summer is chowing down on a cool cone of ice cream. This season, there are three tasty ice cream shops around Dallas that you won't want to miss out on. Get the scoop on what Howdy Homemade, Hypnotic Emporium, and Lake Highlands Creamery have in store for your next hankering for ice cream!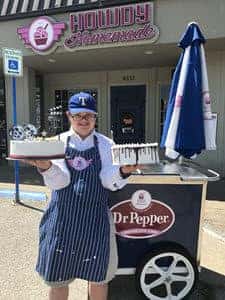 Howdy Homemade
For nearly 20 years, Howdy Homemade has been serving up a truly unique ice creamery experience. This shop was born from the passion of revitalizing the human spirit through top-notch customer service and delicious ice cream. Here, you'll find a variety of flavors including the world's only Dr. Pepper Chocolate Chip ice cream.
Howdy Homemade's tasty and unique ice cream flavors aren't the only thing that make this ice cream shop stand out. Along with their commitment to serving up incredible frozen treats, they're also on a mission to provide employment for individuals with special needs.
Hypnotic Emporium
At Hypnotic Emporium, they do much more than serve up ice cream and an array of other sweet treats. The owners of this establishment know how important creating memories with your loved ones is and how many of those memories are shared around delicious eats like traditional ice cream cones.
Here, you can get your memories served up in a number of ways. Stick with the traditional piled-high ice cream cone or branch out with an ice cream sandwich featuring fresh baked cookies or a cloud cone. A cloud cone comes with your favorite ice cream, a sugar cone, and a fluffy rim of cotton candy.
Lake Highlands Creamery
Lake Highlands Creamery was created to provide "good ice cream for good people." This community-focused ice cream shop uses the freshest local ingredients and their special 19% butterfat ice cream recipe to create quality ice cream that's good for both you and your taste buds.
Choose from a rotating list of flavors including scrumptious traditional favorites like Sweet 'Nilla, Cookies & Cream, and Triple Chocolate. You can also try something new like S'Moreo, a tasty twist of s'mores and OREO, or Dirty Belgian, which features house made salted caramel, Belgian waffle crisps, and Belgian chocolate ice cream.
Enjoy Your Treats
Get eating before your ice cream melts because you won't want to waste a drop from any of these three delicious ice cream destinations!