Download Our FREE Buyer's Guide to Jeep Cars eBook!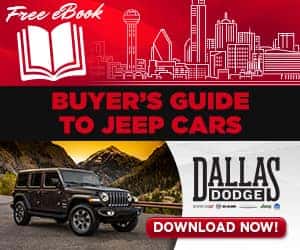 At Dallas DCJR, we're thrilled to offer a wide variety of Jeep vehicles for shoppers in the areas of Dallas, Garland, and Arlington to choose from. However, with so many unique features and capabilities in each Jeep model, it's important to consider all of your options before you decide which one is the best fit for you.
To help you do just that, we've created this free Buyer's Guide to Jeep Cars eBook. Inside this free informational resource, you'll find all kinds of information about the Jeep Cherokee, the Jeep Compass, the Jeep Grand Cherokee, the Jeep Renegade, and the Jeep Wrangler.
You can access your free copy of our eBook today. All you have to do is fill out the short information request form on this page. Once you've filled out the form and submitted your information, you'll be able to start your research right away!