Financing a Car to Rebuild Your Credit
It's a fact of life that we all have debt that needs to be paid off. Whether this debt is in the form of student loans or outstanding credit card payments, sometimes we look to finance a car to rebuild our credit.
On this page, we at Dallas DCJR will give you a detailed overview of your payment possibilities to help improve your credit when you finance a car. Shoppers in the areas of Dallas, Garland, and Arlington should read ahead to learn more!
Tips for Improving Credit
Before you dive into the financing process for your next vehicle, you should know that your credit score can always change. In fact, your credit score can fluctuate drastically throughout the years. You have the power to improve it before you start trying to finance your next car. Some of the best ways to improve your credit score are as follows:
Dispute any mistakes you find on your credit report.
Pay off as much existing debt as you possibly can.
Don't open or close any credit accounts that you have.
Make a schedule to remind yourself of future payment dates.
As you can see, there are many ways to turn your credit score around in order to make your next car-financing experience more streamlined.
Your Financing Options at Dallas DCJR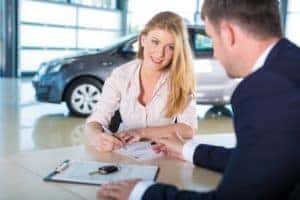 When you step into our on-site finance center, you'll be greeted by a team of friendly and professional finance experts who are ready to help. One of them will sit down with you to go over your budget, lifestyle, and credit score. They'll help you determine what kind of payment plan you need and zero in on car loan rates or car leases that work for your needs.
On top of our friendly finance team, we offer a handful of helpful finance tools for our customers to take advantage of. Before you even come into the dealership, take advantage of the payment calculator or trade-in value tool. Trading in your current vehicle is a great way to supplement your payment for your next vehicle.
Ready to Finance Your Next Car with Us?
We at Dallas DCJR are proud to help shoppers in any way we can, especially when it comes to finding a vehicle and payment plan. As you can see, we're ready to help you put together a financing solution that fits your needs no matter where your credit score stands.
Now that you have a better idea of how we can set you up with financing and a car that you'll love, we hope you're ready to get the ball rolling on finding your next car with us.
Shoppers in the areas of Dallas, Garland, and Arlington can browse our entire new and used car inventory on our website. When you find something that you can see yourself in, give us a call at the dealership so we can set you up for a test drive!