How to Trade in a Car

---
Trading in your vehicle
can be one part of the exciting process that is purchasing a new car. Trading in a car typically helps with your down payment and saves you from trying to figure out what to do with your old car once you've got your next one.
Dallas Dodge Chrysler Jeep Ram (DCJR) is here to help explain the process for drivers from Dallas, Garland, and Arlington, TX, so you know what to expect when you trade in your vehicle.
---
​
Step One: Get Your Paperwork Together
When you're planning on trading in a vehicle, the first step is to get all of your paperwork together. Your car will be worth more if you can prove you've kept up with its maintenance and repairs. If you have receipts for maintenance and repairs and a vehicle history report, these can help you negotiate an offer.
Vehicle owners who have paid off their loans should also bring their titles when they visit the dealership. Otherwise, bringing the loan paperwork might help too.
---
Step Two: Get an Estimated Value for Your Trade-In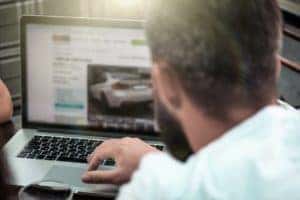 Figuring out what your car is worth before heading to the dealership can help you make sure you're getting a competitive offer. These days, there are plenty of ways to get an estimate on your vehicle, from the Kelly Blue Book site to Edmunds.
Our dealership also has a value your trade tool that you can utilize to get a reliable and accurate estimate. It only takes about 10 minutes to receive your estimate. You can come by the dealership and bring your offer with you to redeem it.



---
Step Three: Clean Up Your Vehicle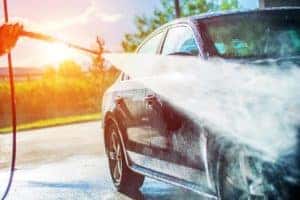 There is no hard and fast rule about how clean your vehicle should be when you trade it in. However, showing that you have a clean car can help lower the cost of refurbishment for the dealer, which means more money for you. It also shows that you've taken care of the vehicle.
While you clean your vehicle, it's also a good idea to remove any personal belongings prior to bringing in your car. If you're not sure how much cleaning to do, you can't go wrong with a car wash and a vacuum.
You'll also have the option at this point to do minor repairs on your vehicle, including repairing dents and scratches. This is your choice. While these repairs can have an impact on the value of the trade, it is hard to say if the increase in value will cover those costs.
---
Step Four: Negotiate Price and Finalize the Deal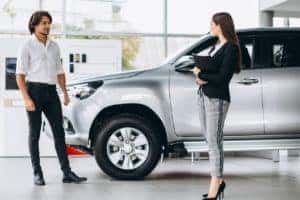 It's time to negotiate. You're allowed to negotiate the price of your trade-in. Work with the dealership to find a price that works for both of you. Then, if you come to an offer that you feel is fair, accept the deal and go over the paperwork.
Next, all that's left to do is finalize the deal!






---
Trade in Your Vehicle to Us Today
Now that you know how to trade in your vehicle, are you ready to get started? Our team at Dallas DCJR is excited to work with drivers from Dallas, Garland, and Arlington, TX. We'll help you find the vehicle that meets your needs and make the trade-in process smooth for you.
If you have any questions, feel free to reach out.
---