Mopar Service in Dallas
Hours:
Mon - Fri : 7:00 AM - 7:00 PM
Dealership Amenities
Mopar provides authentic OEM parts for your Chrysler, Dodge, FIAT, Jeep, RAM or SRT vehicle. We also offer OEM accessories and performance parts for your vehicle to make sure it's customized to your heart's desire.
Certified Technicians
We Have Early Bird Hours
Free Estimates
Free WiFi
Goodyear Tires
Michelin Tires
We Offer Mopar Accessories
We Offer Mopar Performance Parts
We Offer Rentals
Saturday Service
Ask About Service Contracts
Shuttle Service Available
We Do State Inspections
Spanish Speaking
Express Lube

Hearing some strange noises? Is your dashboard lit up like a Christmas tree? Or do you think it's time to change out that oil? Whatever the service you're looking for, Dallas Dodge Chrysler Jeep Ram offers our service center to you.
Our loyal drivers near Dallas, Garland, and Arlington, TX, may not know about everything we have to offer. That's why we've written this quick overview. Continue reading below to learn more.
Our Services
It's important that we mention the various services we offer, ranging from routine to special. Each and every one of these tasks is performed by experienced, factory-trained technicians. We are dedicated to your vehicle's overall health and longevity. We also use the latest automotive technology in order to make each process as efficient as possible.
Here are some services we provide:
Routine Services

Special Services

Oil Changes
Brake pads/rotor replacements
Fluid checks/exchanges
Tire rotations
Headlight/battery replacements

Transmission repairs
Electrical/sensor systems
Body/collision repair
A/C repairs
Part installations
You don't even have to know what's wrong with your vehicle before visiting our garage. We can run a standard diagnostic test to pinpoint where your vehicle needs service.
From there, our technicians will draw up a plan to fulfill your car's needs and determine a long-term solution that'll keep our vehicle at its peak performance.
Our Collision Center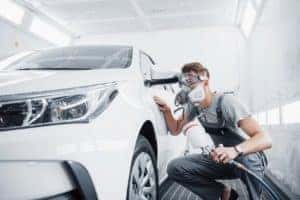 At Dallas DCJR, we understand that even the most experienced drivers can experience a fender bender. Whether you scrapped your side mirrors, backed in a little too close, or had major damage done to your vehicle, our collision center is here for the job.
The process of body repair is simple and includes detailed steps so we can fully restore your vehicle. Depending on your circumstances, your collision repair may include:
Access structural damage
Vehicle disassembly
Color matching paint
Order and receive parts for repair
Once you drop off your vehicle, our advisors can give you an estimate of the time it will take to complete the repairs to your vehicle. We will do everything we can to get you back on the road in a timely manner.
Our Service Center Amenities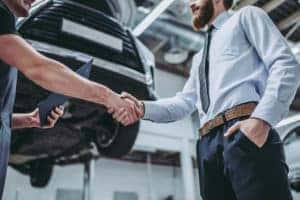 Every customer who comes through our door is in for a treat thanks to our many service center amenities. What are these amenities, you ask?
For one, Mopar provides authentic OEM (original equipment manufacturer) parts for your Chrysler, Dodge, Fiat, Jeep, or Ram vehicles. We also offer OEM accessories and performance parts for your vehicle to make sure it's customized to your heart's desire.
Other amenities include:
Early Bird Hours
Free estimates and WiFi
Goodyear/Michelin tires
Rentals
Shuttle service
We should also mention that we offer certified Mopar accessories and performance parts, Saturday service, state inspections, and express lube. We also speak Spanish for our bilingual customers!
Schedule an Appointment with Our Service Center Today!
The next time your vehicle is in need of a tune-up, remember Dallas DCJR. Our service center is open to new and returning customers all around the Dallas, Garland, and Arlington, Texas, areas! Schedule an appointment with our service center in only a few clicks through our website.
Soon, you could be enjoying the many driver perks we have to offer.