Symptoms of Low Engine Oil

---
One of your vehicle's most important routine maintenance services is an oil change. Low engine oil prevents your car from performing as intended on the roads of Dallas, Garland, and Arlington, Texas.
Dallas Dodge Chrysler Jeep Ram is here to go over the symptoms of low engine oil, so you know if it's time to schedule an oil change or bring it in for a technician to look at. We'll also cover other important engine oil information below!
---
Signs Your Engine Needs More Oil
There are a few signs that your car's engine oil is low and that it might be time for an oil change. One of the most obvious ones is the check engine light. While that light can mean a few different things, a low oil level is one of them.
You might also notice additional noises from your vehicle's engine when you're on the road. Clunking, ticking, or rapping noises might mean there's not enough oil to lubricate the engine.
Another low-oil sign is a puddle of oil under your vehicle. That can be an indication of a leak somewhere in the oil system. If you notice a burning smell, this might be oil leaking onto the engine.
What Does Engine Oil Do?
Engine oil plays a vital role in your vehicle performing regularly. It circulates through the engine, lubricating the moving parts, keeping those parts clean, and cooling the motor.
When you're driving, the engine generates friction. This friction creates heat and damage to your vehicle. Using engine oil reduces friction, which reduces heat, keeping the engine from excess wear and high temperatures. If it doesn't have enough oil, these parts rub together, get damaged, and negatively affect the engine.
Why Do You Have to Change Your Oil?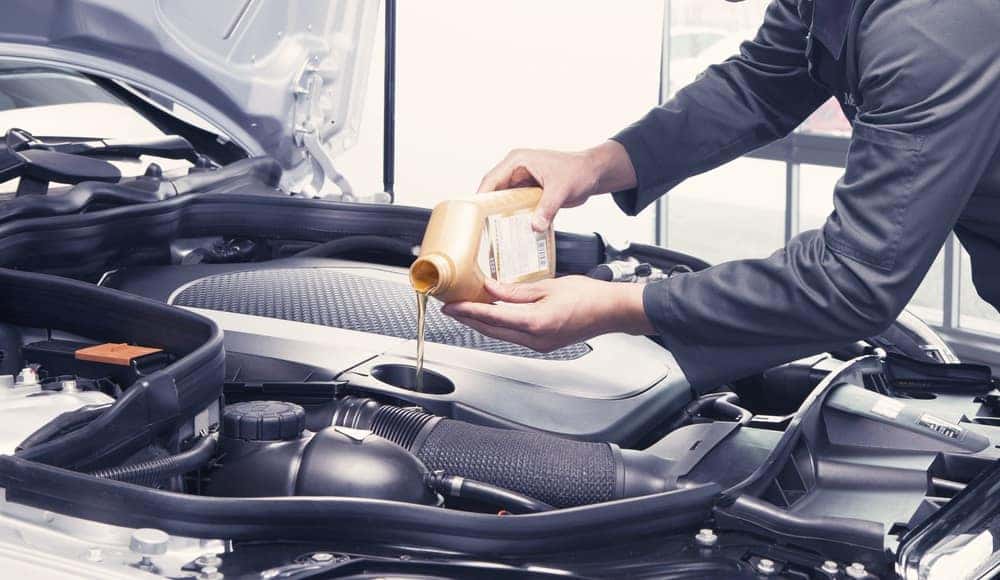 As we mentioned, as oil circulates through your engine, it picks up grime and small bits of debris. The engine stays clean and does not suffer additional damage from debris that's not supposed to be there. However, oil can only pick up so much.
On average, you should change the oil every 7,500 to 15,000 miles. This depends on the age of your vehicle and the type of oil in the engine. If you're not sure, ask a technician.
During an oil change, the technician will drain the oil, change the oil filter that helps catch debris, and fill it up with new oil that's right for your vehicle.
If you're not sure what kind of oil your vehicle uses, that's okay. Your owner's manual might tell you the type of oil you should use. A service technician at our service center can also recommend the oil that's best for your car's engine.
---
Schedule an Oil Change at Our Service Center
Oil changes are an easy process. Our team at Dallas DCJR is here to help drivers from Dallas, Garland, and Arlington, TX, get the oil changes they need. Feel free to ask about any service offers we have currently when you come by for your oil change.
It's easy to schedule. Just give us a call or schedule online today!
---