Sippin' On Gin and Juice: The Top Cocktail Bars in Dallas TX
There's an art behind creating an innovative cocktail: your mixologist has to have a good understanding of spirits as well as a desire to craft something original and new that's a delight to the senses. Here, we've listed the top cocktail bars near Dallas, TX, so you know where to head the next time you're craving a drink.
3Eleven Kitchen & Cocktails
At 3Eleven, you can expect to find farm-to-table cocktails and meals that are made from fresh locally sourced ingredients. After all, you know you're going to get the highest quality around,thanks to their 2019 Open Table "Diners' Choice Award" win. They're guided by the philosophy that "every ingredient has a purpose."
They serve both brunch and dinner. Plus, their menu includes crab cakes, hummus platters, truffle cheese fries, burgers, salads, fresh seafood and steak, and desserts.
You can check out their cocktail creations over on their Instagram page!
Armoury D.E.
The Armoury D.E. was named after the historic Deep Ellum District in Dallas and provides an environment that captures its quaint Southern charm. This is the perfect spot for late-night dinners since you'll be able to enjoy their menu of eclectic eats until 2:00 a.m.
On their menu, there's a selection of appetizers and entrees you won't be able to find anywhere else. Bite into their Kraken Headz, which are tender and slow-cooked octopus heads that are breaded and fried, or their Duck Hearts with a jalapeno chimichuri drizzle.
Their cocktail menu also features innovative creations, such as the Lone Gunman, which mixes vodka, aperol, lemon, bull's blood claret syrup, blackberry, and mint.
You can keep up with them on their Facebook page!
The Tipsy Alchemist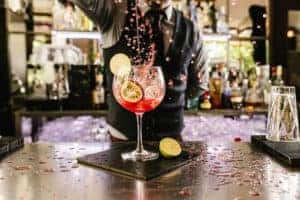 At the Tipsy Alchemist, they're dedicated to providing elevated cocktails through science, art, and technique amongst a social lounge setting.
They have a variety of different Alchemy menus, which includes Cocktails, Copper, Late Night, Bottles, and Holiday. The Copper menu features Kettle One Copper Pots, which serve four, and Absolut Elyx Copper Swan Bowls, which serve eight people.
Their Holiday menu includes Christmas-themed drinks, like Russian Claus, which mixes Spiced Glass Vodka, Kahlua, Eggnog, and Pumpkin Spice reduction. The Polar Express combines Glass Konda Vodka, Averna Amaro, Vanilla Reduction, Espresso, Vanilla Cinnamon Cream, and toasted cinnamon dust.
Learn more about their menu on their Facebook page.
Get Your Sip On at These Dallas Bars!
Now that you know all about the top cocktail bars near Dallas, TX, be sure to schedule a reservation or stop by!