Jeep Cherokee Dimensions
The 2019 Cherokee offers drivers in the Dallas, Garland, and Arlington area a pure thrill ride. With a show-stopping design and tons of features to make you swoon on the road, there's no doubt that this vehicle takes charge. But, how does it fare when it comes to size?
To help you find out, Dallas DCJR has created this Jeep Cherokee dimensions guide. Keep reading below to see how this vehicle measures up from the outside in.
2019 Jeep Cherokee Exterior Dimensions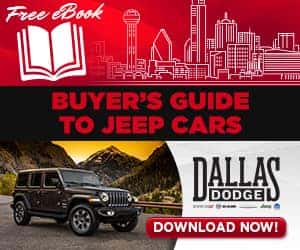 Packed with power for ideal on- and off-road performance, the 2019 Jeep Cherokee needs a solid base to withstand your upcoming adventures. And with a GVR Rating of 5,500 pounds, you've got it. The overall length of this Jeep measures in at 183.2 inches with a standard width of 73.6 inches. However, with Jeep Active Drive Lock, the width increases to 74.9 inches.
The height (including the roof rack), as well as the wheelbase, also varies among different trims:
Jeep Active Drive 4×2 – 66.3-inch Height / 106.48-inch Wheelbase
Jeep Active Drive I – 66.8-inch Height / 106.6-inch Wheelbase
Jeep Active Drive II – 67.8-inch Height / 107-inch Wheelbase
Jeep Active Drive Lock – 68.3-inch Height / 107.1-inch Wheelbase
The Jeep Cherokee Interior
The inside of the 2019 Cherokee provides plenty of room for you and yours. It can seat up to five, fully utilizing the 128 cubic feet of passenger room. This includes a front space of 39.4 inches of headroom, legroom of 41.1 inches, a shoulder space of 57.6 inches, and 53.8 inches of hip room. This is perfect for all sizes of drivers and front passengers.
But the front isn't where the roominess ends. Those in the back are met with 38.5 inches of headroom, as well as 40.3 inches of legroom. The shoulder room and hip room are also quite ample, measuring in at 55.1 inches and 49.9 inches, respectively. Now everyone has enough space to get cozy for the road ahead.
2019 Cherokee Cargo Space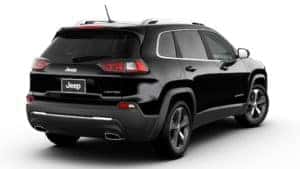 Need enough room in the back to store your belongings? The Jeep Cherokee has you covered. When all of the five seats are in their upright position, you'll have 25.8 cubic feet to fill. This is perfect for groceries, luggage, and more.
However, with the 60/40 split-folding seats and the available sliding rear seat arrangement, you can elevate that space to a max cargo of 54.7 cubic feet. Going on an intense shopping trip and moving a larger piece of furniture? Then this is the configuration for you.
See the Cherokee in Person at Dallas DCJR Today!
If after reading about the 2019 Jeep Cherokee dimensions, you're ready to experience it for yourself, we have you covered. To schedule a test drive in the Dallas, Garland, and Arlington area, contact us today! Our team of knowledgeable associates will be happy to tell you more about the size of this vehicle and all the other features it has to offer.