Jeep Cherokee Specs Review

Inside and out, the Jeep Cherokee is one accommodating sport utility vehicle. As a way to give drivers in Dallas, Garland, and Arlington a clear understanding of what we mean, our Dallas DCJR team has come up with this Jeep Cherokee Specs Review.

Take a quick moment to find out about what the Cherokee has to offer in terms of its overall size, its performance attributes, and the sheer roominess that it provides inside the cabin.
Exterior Measurements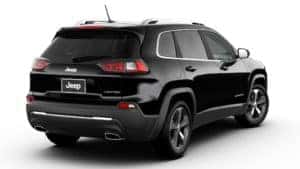 When you examine the numbers that make up the Cherokee's exterior measurements, you'll find that this SUV is just the right size to deliver a stable performance whether you're tackling winding country trails or cramped city streets. This is demonstrated by the fact that it is 73.2 inches wide, 66.2 inches high, and 182 inches long.
Jeep Cherokee Specs: Spotlight on Performance
When it comes to performance, there are three engines from which you can choose. First up is the standard offering of a 2.4L I4 MultiAir® engine. This one delivers as much as 180 horsepower and 171 lb-ft of torque.
Next is the available 2.0L I4 DOHC DI Turbo engine that's able to generate up to 270 horsepower along with 295 lb-ft of torque. The Jeep Cherokee is also available with the 3.2L V6 engine that produces a forceful 271 horsepower and 239 lb-ft of torque. With engines like these, you can be confident that the Cherokee is up for any challenge you can think to throw its way.
A Spacious Interior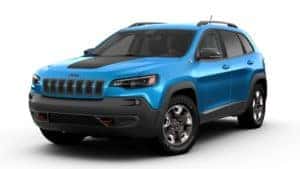 The Jeep Cherokee's interior is all about space. It seats five adults without issue and boasts an interior volume that measures up to 128 cubic feet. No matter where you or your passengers find yourselves sitting, you can all be sure that you'll have enough space with which to move around and get comfortable. To illustrate this, we'll be taking a look at the headroom, hip room, and legroom measurements offered by both rows of seating.
In the front, the headroom comes to 39.4 inches, the hip room is 53.8 inches, and the legroom is 41.1 inches. The back seats supply you with 38.5 inches of headroom, 49.9 inches of hip room, and 40.3 inches of legroom. Whether you're dropping the kids off at practice or enjoying a night on the town with friends, the Cherokee gives you the room you'll need.
If you're going to need plenty of stowing space along the way, the Cherokee has you covered there as well. Its cargo capacity behind the first row is 54.9 cubic feet. It also gives you 24.6 cubic feet behind the second row.
Take the Jeep Cherokee for a Spin to Find Out What Else It Can Do
You've just been shown a quick look at a few Jeep Cherokee highlights that successfully set it apart. Now that you've been introduced to this fully capable SUV, it's time that you've had the complete experience.
If you live or work in Dallas, Garland, or Arlington, contact Dallas DCJR today to set up a good time for a test drive.